Welcome to the unparalleled tech innovation extravaganza that is LevelUp, brought to you by Startup Vegas. As our readers know, our mission is to gather visionaries, from enterprising entrepreneurs to astute investors, and create an environment where ideas and strategies can flow.
With every pitch, you'll be immersed in the relentless commitment that defines the Las Vegas startup community. Read on to get a front-row seat to these startups' journeys and see firsthand how they try to revolutionize their industries.
StartUp Vegas – LevelUp!
LevelUp, a bi-monthly tech innovation gathering right in the heart of the Las Vegas Valley, continues to be the go-to source for the freshest breakthroughs in the tech world. With each passing month, we propel startup owners into the stratosphere of success as we facilitate strategic partnerships with savvy investors.
In November's edition, we saw some exciting opportunities in the areas of:
Gamification of loyalty apps for the resort & hospitality industries
A hyper-local social media solution that subverts the global loneliness epidemic
Digitization of travel adventures that make every journey easy to share.
Read on to learn how these three companies make it happen.
The Power of Play: Kanek Gamifies Loyalty and Customer Retention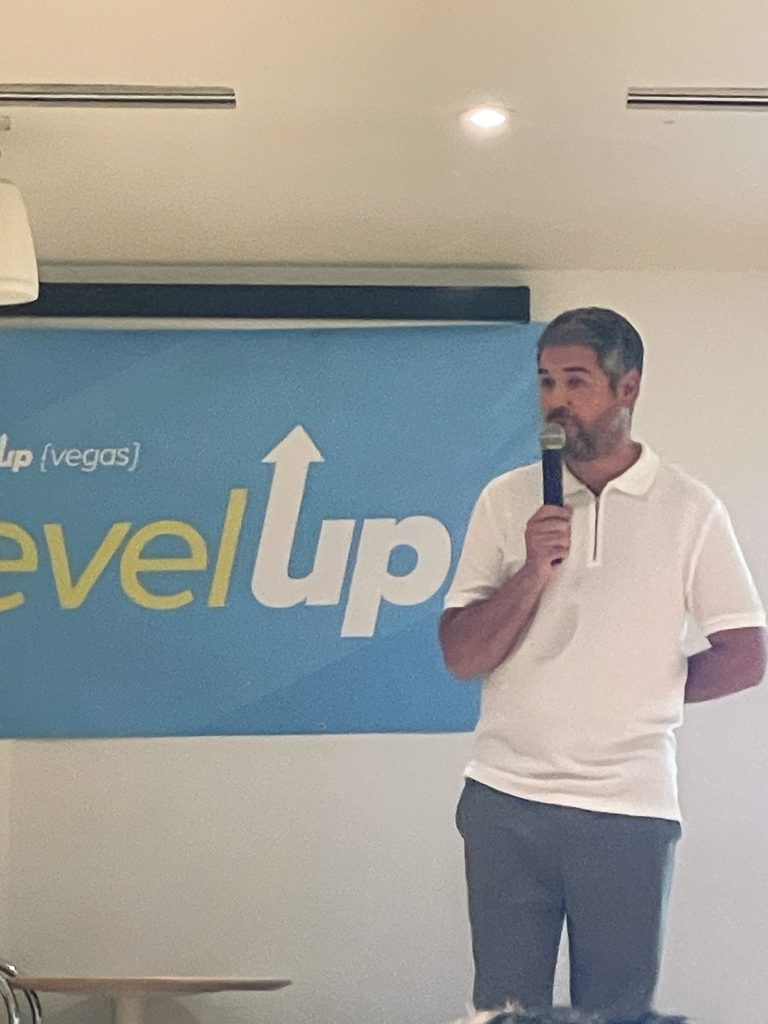 [Kanek, Fernando Anello, Founder & CEO]
Ever felt like loyalty apps are a snooze fest? You aren't alone! Up to 75% of gaming resort guests never download their location's loyalty app. This represents a significant missed opportunity for customer acquisition.
Introducing Kanek, an exciting player in the mobile augmented reality landscape poised to fill this void with a revolutionizing loyalty experience. It begins with the U.S. casino industry. Kanek's primary objective is to gamify the mundane loyalty signup process and inject it with a sense of excitement that has been lacking in loyalty apps.
Kanek's approach is unique in the market. Kanek addresses loyalty attrition head-on with its creative, immersive, game-like experiences that captivate users and encourage loyalty. Within the Kanek platform, gaming companies can create loyalty programs with a variety of gamified interaction options, launch the platform to users, and acquire more business.
These solutions are driven by an expert-led team of advisors from some of the world's leading gaming, entertainment, and hospitality consulting firms. With such expertise at their disposal, Kanek is well-equipped to navigate the intricacies of the industry.
Kanek's enterprise Software as a Service (SaaS) solution includes tiered licensing options based on casino size and opportunities for data monetization. To accelerate their growth, Kanek seeks $1.2 million in funding. These funds will expand their team, fortify their operations, and launch effective marketing initiatives. Kanek's journey promises to captivate its audiences, and its innovative approach to loyalty and gaming is certainly one to watch.
Contact [email protected] to learn more!
Build Your Tribe: How Tribefy Revolutionizes Social Connection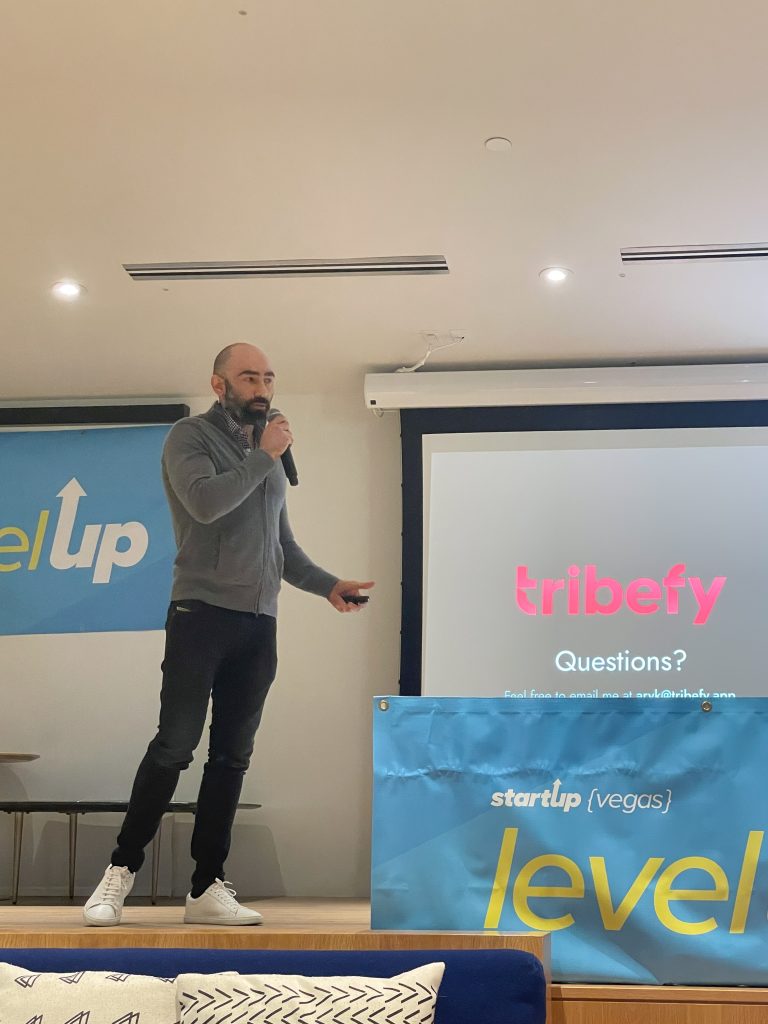 [Tribefy, Aryk Grosz, Founder]
Tribefy is more than just another social network; it's a powerful force against the world-wide loneliness epidemic. Despite the myriad social networking tools at our disposal, our society experiences loneliness at an unprecedented rate. And with the Surgeon General's report that underscores the dire health consequences of loneliness—a lack of social connection is more hazardous than smoking 15 cigarettes a day—Tribefy emerges as a beacon of hope.
Tribefy is a different type of social networking application that focuses on local, in-person connection. The platform includes features for rich, trust-inspiring user profiles, hyper-local communication, and more. It covers a range of versatile use-cases that go beyond conventional social apps.
What sets Tribefy apart is its unique decentralized tribe system, which creates dynamic and location-based groups near the user. This innovative approach champions a "people over content" philosophy and redefines the way we interact with our digital communities. It categorizes our social relationships based on affiliations, so Tribefy makes sure that we connect with people we already know or may want to know.
Better yet, Tribefy's approach to monetization is as innovative as its core features. The company offers subscriptions that unlock premium app features while it also grants in-app currencies to unlock profiles, send messages, and view social media content. This system allows Tribefy to optimize user behavior and revenue simultaneously as the app evolves.
The results speak volumes. Tribefy achieved 22,000 monthly active users in just eight months, all at an average cost of $1 per user. What's more, its 61.5% retention rate over 30 days outshines the industry standards for both social and dating apps.
To take this transformative concept to the next level, Tribefy seeks $3 million in funding. Their goal is to reach 800,000 monthly active users by the end of 2025 with an annual recurring revenue of $2 million.
Contact [email protected] to learn more!
Inspire and Share with MintPass: Your Travel Stories Reimagined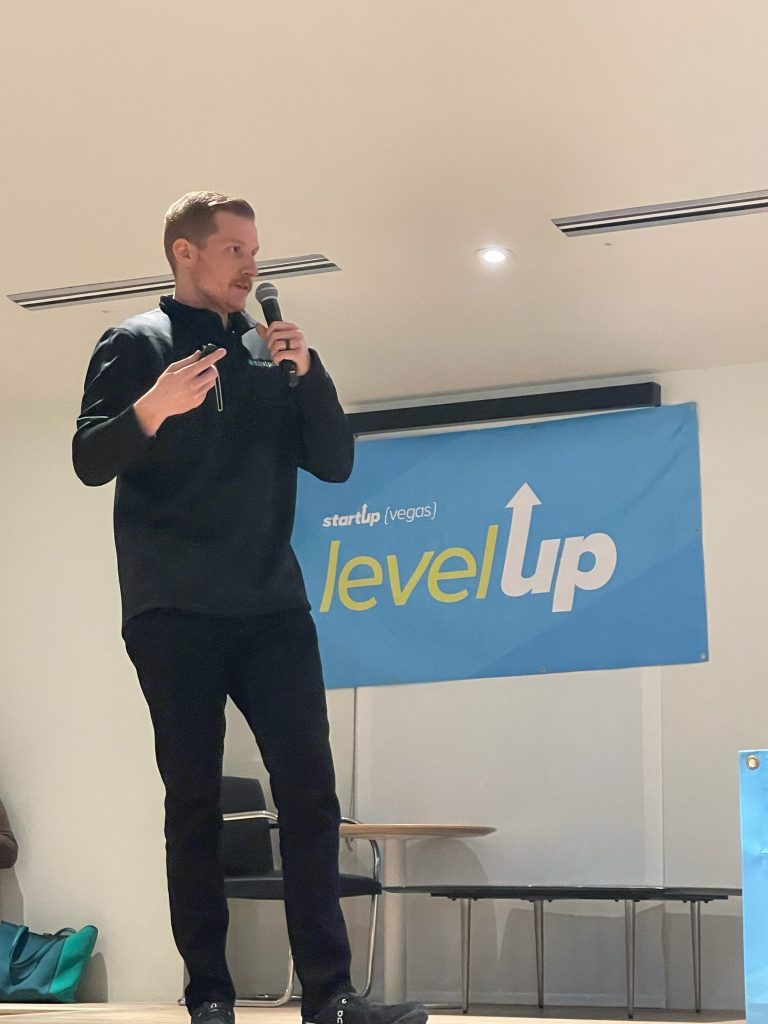 [MintPass, Sam Simmons, Co-Founder & CEO]
In a world where Gen Zs and Millennials represent the most frequent travelers, companies benefit if they tailor their solutions to the unique behaviors and priorities of this new-age adventurer. MintPass steps in as the ultimate travel inspiration app. It's perfectly attuned to budget-conscious explorers with a penchant for sharing their journeys on social media.
MintPass offers a revolutionary platform that collects, preserves, and shares travel experiences in the digital realm. Think of it as a digital passport in which every adventure can be logged, expanded upon, and shared with others. What sets MintPass apart is its focus on inspiring others because it shares the traveler's world digitally, and it ensures that every journey becomes a source of motivation for fellow globetrotters.
Key features of MintPass include shareable profiles of travel experiences, a convenient third-party booking system, traveler scores, ChatGPT-powered concierge services, and an array of gamification tools. These elements coalesce to create a one-of-a-kind digital souvenir-collecting journey that celebrates exploration and connection. These solutions are built to break through the traditional paradigms of influencer marketing and allows any traveler to bring visibility to his/her adventures.
The platform is scheduled to debut in January 2024, with an arsenal of go-to-market strategies that include influencer ambassadors, partnerships with travel agencies, creator programs, live events, organic social outreach, and community engagement. MintPass's monetization strategy employs a hybrid approach because it combines affiliate and subscription tools. Free users contribute to revenue through affiliate channels while paid subscribers enjoy revenue-sharing opportunities.
To bring this remarkable vision to life, MintPass seeks a pre-seed funding round to fuel early-stage marketing efforts and further develop its innovative product.
Contact [email protected] to learn more!
November 2023 LevelUp Overview
We're thrilled to report another successful LevelUp event. Our November meeting brought together 115 attendees at the WeWork Office Space in Las Vegas where a great selection of professionals shared their insights with attendees.
Attendee Breakdown:
Entrepreneurs: 54%
Marketing: 13%
Investors: 12%
Developers: 11%
Creative: 6%
Other: 4%
Panelist Shout-Out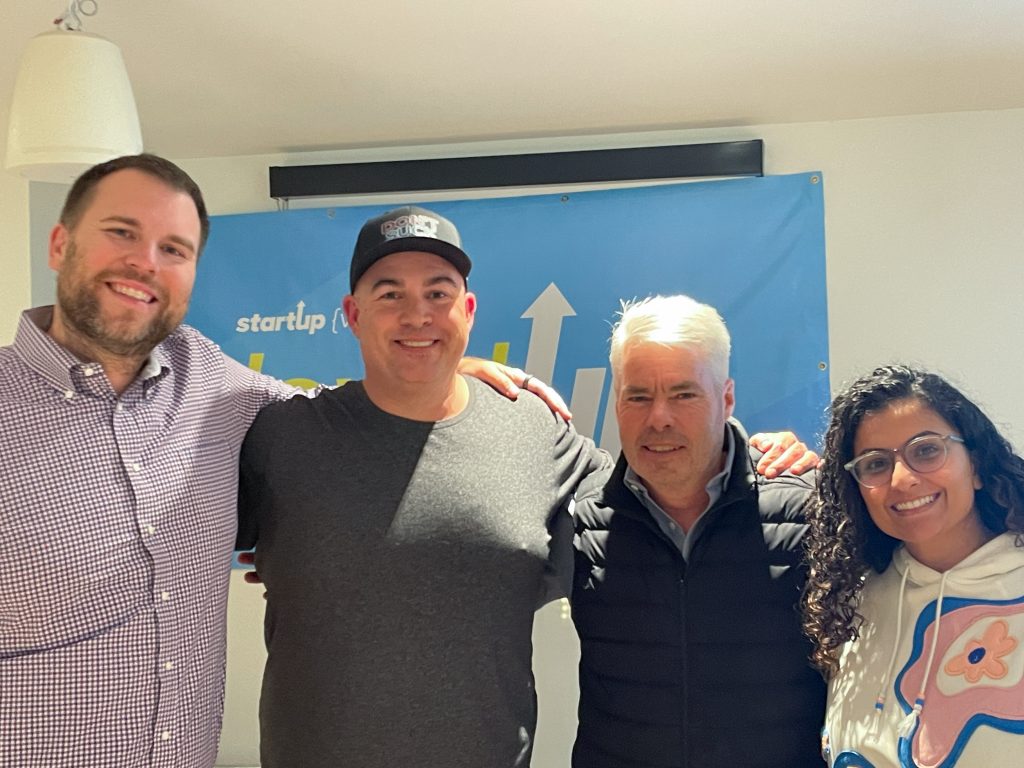 LevelUp owes its success to the unwavering dedication of our community champions: the advocates, industry experts, and board of panelists who provide critical support for each event. This month, we'd like to recognize Faye Almeshaan, Bob Christopher, John Emmons, and Piotr Tomasik. Thanks for everything!
StartUp Vegas is always buzzing with activity. Mark your calendars and keep your schedules open for the exciting upcoming events in our series.
Coming Attractions
RiseUp (Tuesday, November 7th): RiseUp is a community event for women in tech to connect, learn, and discuss pressing topics. It celebrates the impact these remarkable women are making on Vegas.
(WeWork in Town Square, 6543 S Las Vegas Blvd, Las Vegas, NV 89119)
ScaleUp (Tuesday, November 28th) ScaleUp is the premier "sip & and learn" in Las Vegas for entrepreneurs and investors. Come out, grab a drink, network, and hear from top-tier speakers on startups, tech, venture, and more. (WeWork in Town Square, 6543 S Las Vegas Blvd, Las Vegas, NV 89119)
LevelUp (Wednesday, November 29th)LevelUp is a monthly meetup for local startup founders and entrepreneurs to work remotely in a community workspace while they network.
(WeWork in Town Square, 6543 S Las Vegas Blvd, Las Vegas, NV 89119)
Make your mark on StartUp Vegas! We encourage anyone with an interest in our startup community to get involved.
Heather Brown ([email protected]) and Piotr Tomasik ([email protected]) are the Co-Founders, operators, and chefs du jour for StartUp Vegas. Their ongoing mission? Provide a foundation of critical infrastructure, support, and community to establish Las Vegas the premier tech ecosystem in the nation.
---