On December 19, 2014, What If…? Las Vegas is bringing together innovators from education, entrepreneurship, and tech to grow the future possibilities of entrepreneurship. Questions will explore how entrepreneurship intersects with communities, education, self, and the future.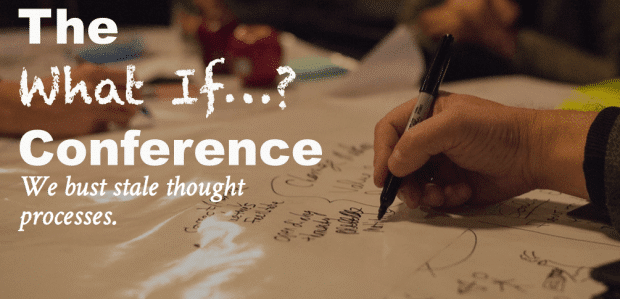 A What If…? Conference is a raw space to create. The team has received mentorship from Saul Kaplan and the Business Innovation Factory, and have had speakers such as Jack Andraka, Dr. Richard Stallman, and Sarah Miller Caldicott ask "What If…?" at past conferences.
Matt Murrie, What If…? Executive Director & Chief Curiosity Curator, is a former Peace Corps Volunteer who got into teaching. He says he has now transformed into an entrepreneur.
"I consider myself an "edupreneur"; I brought in principles of entrepreneurship into my writing and literature classes during the past five years I worked as an English professor. Last May, I taught my last "official" class and have now committed my life to turning "what if…?" from a question into a verb and empowering others to bring the entrepreneurial perspective to their lives. I'm also a published, agented writer with over 250,000 books sold," he said.
Matt Murrie says What If…? isn't a traditional conference.
"It's highly participatory," he explains. "We don't have an audience, we have a gathering of off-stage presenters. Through the What If…? Flow, the focus is diverted from the speakers and onto the collaboration of the crowd to "hack the ask" (the questions) and design actions in order to co-create the future. This future is composed of actionable deliverables, relationships, and real world projects with real world applications."
The audience who attends What If…? conferences are a diverse mix of educators, entrepreneurs, tech, philosophers, students, and executives.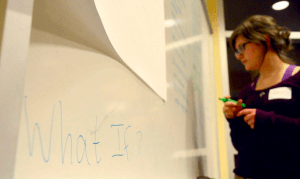 "The common thread through them all is that they're innovation junkies and courageous enough to let their curiosities lead them," Matt Murrie said. "In addition to the audience who attend our events and view them online, I'm now working with Cisco, AB-InBev, and other corporations to do in-house innovation seminars and workshops."
Matt Murrie said that for the longest time, his favorite What If…? talk was "What If I'm Wrong?" presented by Ethan Porter.
"I love it because it hits to the core of asking "what if…?" and having the courage to seek cognitive instability as a means of pushing your learning, thinking, and understanding forward," he said.
"However, right now, my favorite talk has to be "What If Humanity's Greatest Trait Could Be Found In Our Artists And Children?" from Sloane Scott," he said. "Not only is it a powerhouse question, but the charge to create with reckless abandon is an amazing one, especially considering it's delivered by a sophomore in high school."
"I'm looking forward to having a conference in Las Vegas. I consider the city as a speaker," said Matt Murrie. "What if we can reimagine the city as something other than just a place for entertainment? There is so much going on in Las Vegas in terms of entrepreneurship, technology, and just being a kick-ass place for innovators to live. I'm excited about What If…? becoming a part of this conversation. The majority of our attendees will be coming in from outside of Las Vegas, so I see this as a place for the city to take the stage and invite others to question their preconceived ideas of what it is–and what it can be."
Matt Murrie says you can help the What If…? Conference be a success in the #VegasTech community by spreading the word about the conference.
"Since we'll be hosting anywhere from a few hundred to a thousand people, I anticipate needing all the help I can get," he said. "I'd particularly like to find city ambassadors who would be willing to share information about things to see and do in the Las Vegas tech/entrepreneurship scene–stuff that isn't found in standard guidebooks or tourist offices."
Those interested in being part of the event can also apply to be a speaker.
"I've got a discount code for #VegasTech community members. The code: "VegasTech" will take $100 off any ticket," said Matt Murrie. "Register to attend this conference here."