The Evolution Championship Series (EVO) is a major fighting game competition that came to life in 1996 with the original name of Battle By The Bay. The name EVO was adopted in 2002 and the event moved to Vegas in 2005. Here it is 22 years later taking up prime real estate in the Mandalay Bay Events Center and giving the center of the entertainment world one more shining star on its crown.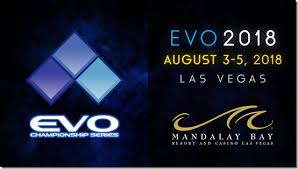 Here are a few facts for perspective:
Total registered competitors for EVO 2018: 11,495
This number includes 8 major game titles such as Street Fighter 5: Arcade Edition, Injustice 2, Tekken 7, and others. This number does NOT include the number of unofficial side events put on by other companies with booths at the event.
Side tournaments are an important piece of major gaming competitions like EVO. This is where older titles stay alive, where vendettas are settled, and legends born.
Most titles won in EVO history: Justin Wong, 9.
Esports is generally seen as a young person's sport with a short career arc. JWong was born in 1985. Let that simmer for a moment.
Only ONE game title has been present at every EVO event: Street Fighter.
There's a reason why Street Fighter is the biggest and best fighting game of them all. Its development arc traces the very soul of the fighting game community (FGC).
Mortal Kombat might be another game that springs to mind, but Street Fighter and all its iterations is the one game to always be present at this event.
Total prize money paid out by EVO from 1996 to now: $1.22 million.
EVO 2016 tops the list with $101,000, according to esportsearnings.com. Prize pools increased steadily over time as popularity has grown. The majority of prize pools come from entry fees. Only recently are brand sponsors putting up big money for events
That feels like pennies compared to the investment deals being thrown around today. However, making money in gaming has NEVER been solely about competitive events. Don't let that number fool you. Gamers make their money from streaming and sponsorships.
The Esports Arena in the Luxor Hotel is the next step in the esports explosion, and other hotel management groups are jumping on board the esports money train as it picks up speed. Expect more event announcements coming soon as piles of money are spent giving people and eyeballs another excuse to come back to Vegas.