Why are so many new businesses traveling to Las Vegas?
And why are they attracted to Startup Vegas?
If you haven't heard, Las Vegas is becoming the new Silicon Valley as hundreds of new startups are packing their bags and moving to Sin City.
Even people from the Founder Institute (the world's largest pre-seed startup accelerator) are setting up shop in this city now.
Many eyes begin to point towards Las Vegas as another startup haven as it has a talented community of entrepreneurs and offers laws, tax breaks, and regulations that allow small businesses to thrive.
Co-Founder of Influential.com, Piotr Tomasik, has taken notice of the rapid expansion of the Las Vegas startup eco-system and plans to strengthen the community by offering Startup Vegas, an organization focused on providing resources to help grow the businesses of aspiring entrepreneurs.
With the amount of rising talent that is prominent within the Startup Vegas community already, there is no doubt that the best startup businesses will come from this Las Vegas startup incubator.
Here are 10 reasons why new startups love Startup Vegas:
1. Networking Events
Each Month Startup Vegas Offers three types of networking events:
LevelUp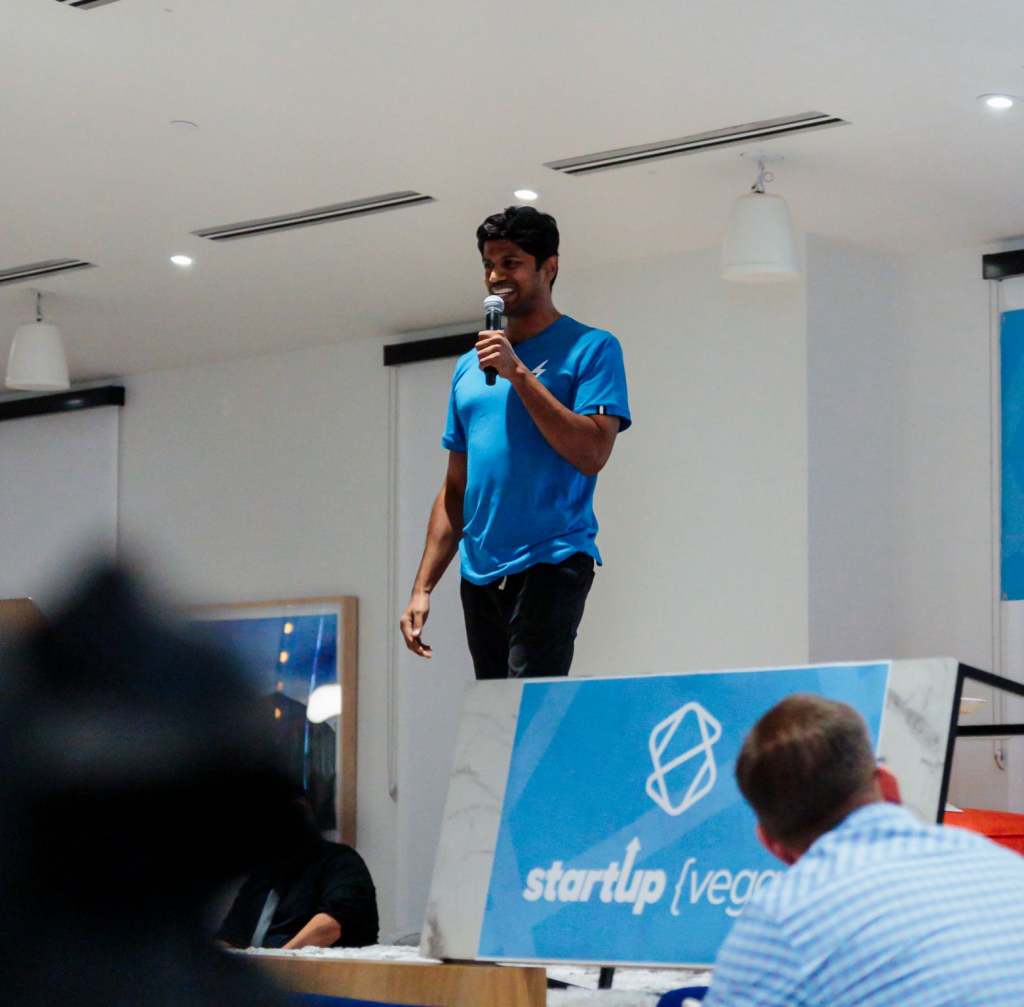 Startup Vegas' LevelUp events allow participants to present their new businesses on stage to a community of successful investors, entrepreneurs, and other business leaders.
We will talk more about this shortly.
LinkUp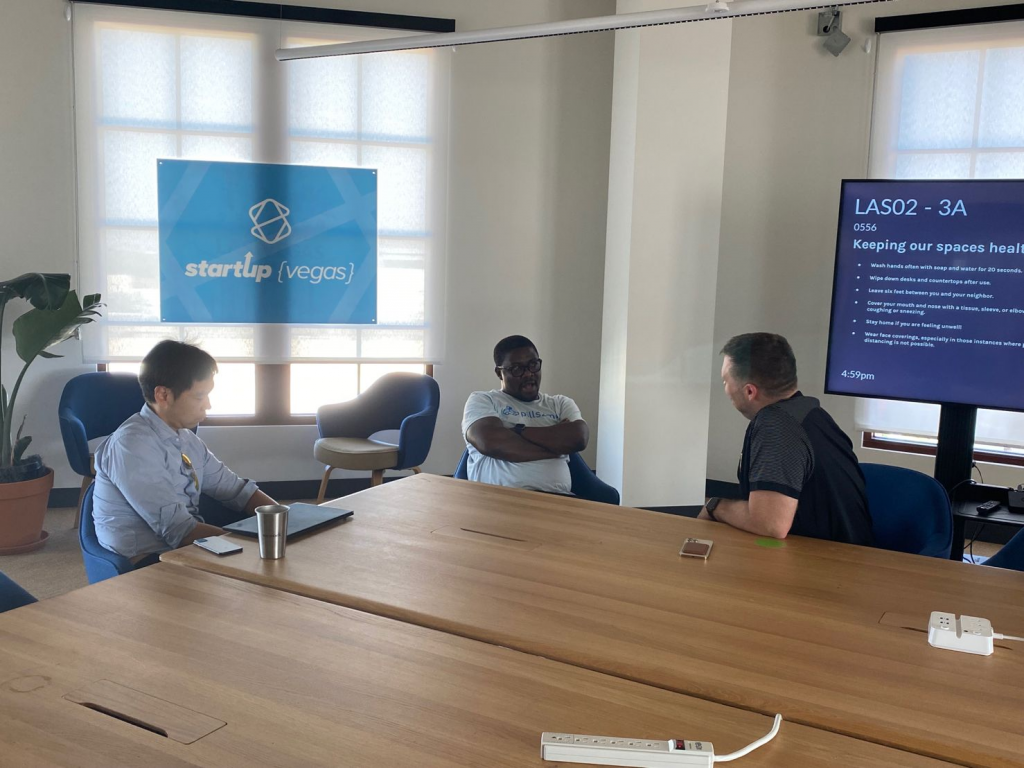 Startup Vegas' LinkUp events were created for local entrepreneurs to meet other founders and work through their business ideas.
These events hold areas to work on your ideas, conference rooms to meet with successful founders to speak through your experiences and have lunch with other like-minded individuals.
SyncUp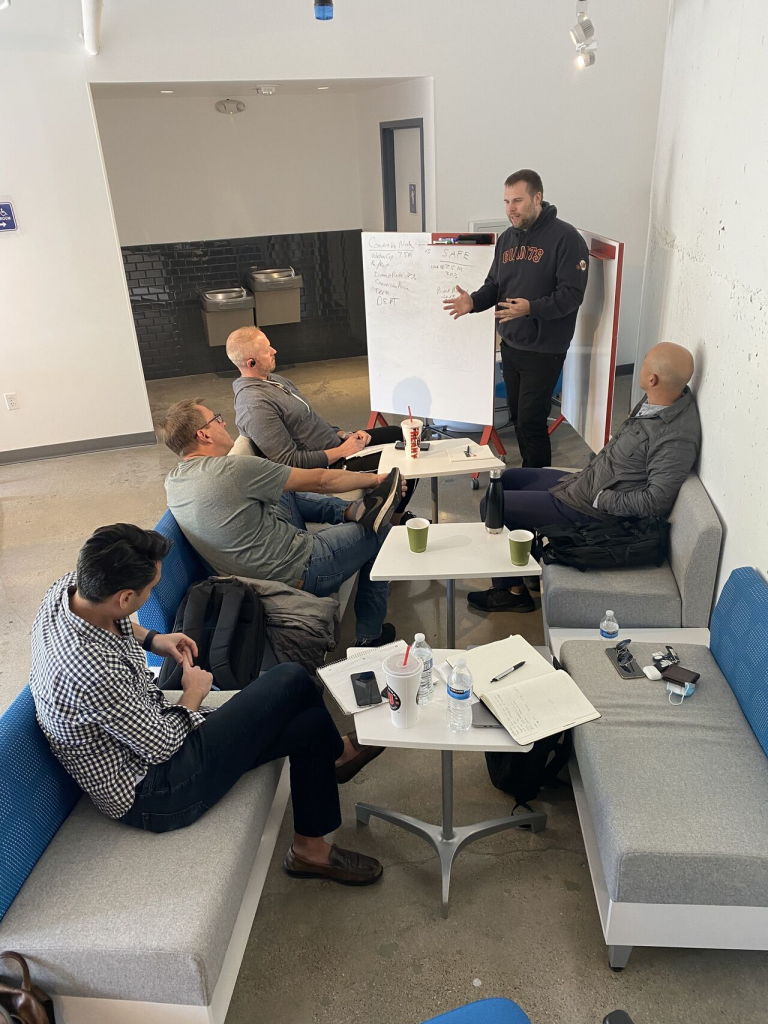 SyncUp is an event dedicated to group mentorship
These venues consist of small gatherings of 4-6 founders that spend a day working with each other and diving deep into the roadblocks that occur within their businesses.
This small group environment allows for a diversity of thinking about certain areas that founders would like help in.
It also allows for a more vulnerable discussion without the fear of judgment from others.
2. Collaboration Efforts
The three events listed above provide opportunities for entrepreneurs to work with others on their new businesses, find potential team members to help, make connections with venture capitalists, and more.
Along with these events, Startup Vegas also provides collaboration efforts through its online community.
Active members can share their ideas and work with others through the Startup Vegas Slack Community channel, LinkedIn, or Facebook page.
Within the past month, Startup Vegas has partnered with the City of Las Vegas, StartUpNV, and NVTA to provide even more resources and collaboration opportunities to new businesses from all over Nevada.
3. Mentorship
Startup Vegas not only provides in-person mentorship but also provides one-on-one guidance to aspiring members online as well.
Entrepreneurs can simply visit the Startup Vegas website and contact the team directly by call or email.
4. Startup Funding
By becoming a member of this community, you will receive access to venture capitalists, other entrepreneurs who may want to invest, and professional businessmen that can help guide you in the right direction to start raising capital.
5. Local Exposure / Global Exposure
You are not only allowed to connect and share your idea through Startup Vegas' monthly events, but you also can share your story in the monthly blog that you are reading now.
This blog aims to capture the stories of entrepreneurs around Las Vegas and broadcast them to a wider area outside of the Startup Vegas community.
6. Content Creation
New startups will be broadcasted in future video content on YouTube and more.
Startup Vegas also plans to begin interviewing entrepreneurs through podcasts, and the community will offer additional services to help create demo videos of your business idea and help you produce content to promote your new business.
7. Presentation Nights
The monthly LevelUp events are typically hosted in an office space in Town Square known as WeWork.
The venue lasts for three hours and is free to anyone interested in entrepreneurship.
90 minutes of this time will be devoted to presentations, and the remainder of the time will be given to attendees to chat with other participants and enjoy free food.
Those who are looking for feedback from potential customers, investors, or partners on their new business are encouraged to come ready to present with some form of presentation.
Participants are then drawn at random and are given 5 minutes to hop on stage and pitch their company to a panel of professionals and have the chance to win a partnership or investment opportunity to take their startup to the next level.
8. Online Courses
Startup Vegas also offers a series of online courses via their Technology Academy to facilitate self-paced guidance.
It currently offers a 10-week sales engineering course that covers over 8 modern sales tech stacks to help you develop more technical sales competencies to win over more customers.
9. Talent Referrals
By connecting with virtually anyone in the Startup Vegas community you can find people who have the skills that you are looking for to help.
Since the community is full of startup founders, the vast majority of members have connections with someone skilled in programming, sales, marketing, investing, or any other avenue that you are looking for help in.
10. Legal Guidance
It's critical to ensure that your business is legally protected as you begin to grow.
This organization provides numerous business professionals that will point you in the right direction to get sufficient legal coverage.
New Companies In Las Vegas
New companies from all over the country are traveling to Las Vegas to attend these Startup Vegas events.
Just last month the team over at Pyxai traveled to a LevelUp event in Las Vegas to meet more of the Startup Vegas community.
Large Companies In Las Vegas
Startup Vegas is attracting eyes from around the city and is now receiving sponsorships from large companies like Cox Communications and Bunker Labs.
Conclusion
Startup Vegas is quickly becoming a name to get familiar with inside the business world and will greatly contribute to making Las Vegas a new startup haven for budding entrepreneurs.
Learn more about Startup Vegas here:
Want To Share Your Startup?
Fill out the form listed below to be featured in our next blog post.