ROCeteer is a company based in Las Vegas that works with entrepreneurial ecosystems to unleash the potential within the ecosystem to transcend awesome. The team provides a blend of coaching, training, consulting and mentoring services and support to all the businesses that either Tony Hsieh or the Downtown Project have invested in and all the people that are employed by those companies.
"This community has suffered 3 suicides and consists of lots of entrepreneurs that suffer from stress," said ROCeteer founder Mark Rowland. "So we realized that mental wellness was very important and wanted to organize an event to showcase this and remind people that stress, anxiety, depression is normal and not something to be ashamed of."

Mark Rowland had met with the team from PeaceLove Studios at the Zappos All-Hands in April 2013 and maintained a relationship them ever since.
PeaceLove is a movement of hope and support for communities impacted by mental health disorders. The team helps people create peace of mind through expressive arts and a symbol of hope. With the sale of merchandise and support of partners, the PeaceLove organization has provided over 15,000 individuals with free life-changing experiences.
"I thought that one of their programs would be perfect for this," Mark Rowland said. "There is a lot of stigma attached to mental illness but it is something that effects 1 in 4 people. We wanted to create an event where people could be open to share their struggles and so together as a community we could demystify and destigmatize mental illness."
"Walk in My Shoes" was a wellness initiative that happened on Thursday, September 11, 2014 at The Learning Village. It was created for the downtown Las Vegas community.
The experience aimed to promote a better understanding of mental health and how it impacts friends, family and colleagues. Through storytellers, expressive arts workshops, and a community art installation, participantsexperienced and understood mental wellness and creative expression firsthand.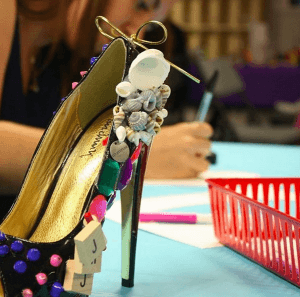 Many partners were involved with this event.  Attendees heard from Jeffrey Sparr, Co-Founder of PeaceLove Studios, author Amy Kinney, and local Yoga Master Dray Gardner.
"Dray Gardner is a local Yoga Master and Meditation Leader in the Las Vegas community and he had a personal connection with ROCeteer and PeaceLove Studios and so we wanted him to be a part of the event to share his story and lead some yoga as well as a short meditation," explained Mark Rowland. "Bronze Cafe has been a key part of our community and produce healthy, tasty and nutritious food and so we wanted to promote physical as well as mental wellness as they are all interrelated. Physical, mental, emotional, nutritional. What do we put in our mouths, what we allow into our minds, and so on."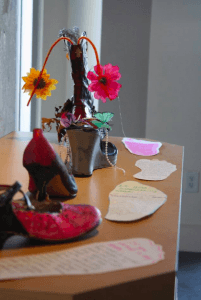 "The workshop that PeaceLove led us through was one of their arts workshops where the attendees could use creative expression to tell their story using a shoe as the canvas," Mark Rowland said. "People were then asked to write down their story with the starting words: "if you walked in my shoes." To see the creativity was amazing. There were some tears, lots of hugs, lots of reflection… this was not surprising, but was very pleasing."
Mark Rowland and his team said those who participated in this event left with a sense that it is ok to share struggles and to be happy with the journey of life. Attendees also learned that the past does not define them.
"The meditation portion of the event was awesome," he said.  "Seeing everyone quietly sitting in the room was beautiful and there was a nice energy as a result."
"I think the attendees left knowing that they are not alone in their struggles, that other people share similar experiences," added ROCeteer team member Kimberly Guiry. "There was also a sense of relief from many attendees to find out there are ways to get help through expressions of art."