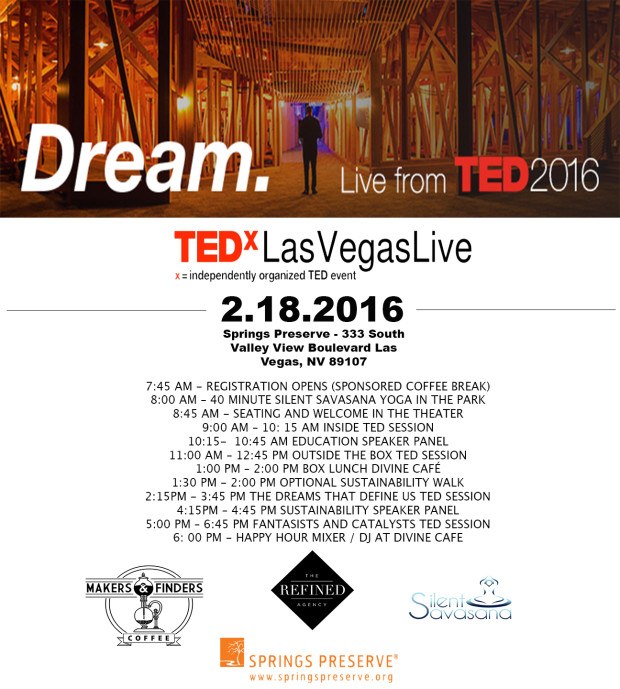 TEDx Las Vegas presents the official TED live viewing at the Springs Preserve Thursday, February 18, 2016.
At this event, local community leaders and industry influencers will come together and the full day experience will be themed around Dreams. The event organizers will be streaming talks, and also feature two interactive panels focused on local topics in Southern Nevada.
Education and Heath Panel:
– Dr. Janet Runge
– Justin Blum
– Katie Decker
Moderator Shaun Leonard
Sustainability Panel:
– Dr. David James
– Ciara Byrne
– Fred Welch
– Heather Wilde
Moderator: Bruno Bowles
"We focused on getting a diverse perspective with each of the panel members that we selected," said organizer and licensee Michael Grema. "The locals panels will focus on Southern Nevada. This is in addition to the talks streamed lived for TED2016."
This event is designed as a benefit to help organize local resources for TEDxLasVegas. The organizer hope to set sites on putting on a Live Production event for TEDxLasVegas. Because of this, all funds raised go toward supporting and sustaining the TEDxLasVegas Program for the community.
"Our aim is to build a great city model for TEDx in Las Vegas," explained Grema. "We hope to have a comparable like TEDxSydney, TEDxSanDiego, TEDxPortland, etc. Programs in other cities have grown into major events through the help and support of local partnerships. While TEDx is still relatively new in Las Vegas, we have a strong intellectual community. By providing an international touch point through a TEDxLasVegas program, we are working to foster a more innovative community."
"TED and TEDxLasVegas are all about ideas worth sharing," adds Director of Programming and Panel Curator/Moderator Shaun Leonard. "I believe that Las Vegas has a lot of ideas worth sharing, and we should spotlight them, provide a platform for them, and ultimately share them with the Las Vegas and Nevada community, and beyond."
The night will cap off with an influencer reception at the Springs Preserve Divine Cafe.
Grema says the event has been made possible by the support of many community partners, including The Refined Agency.
"Lin Jerome and Alexandra Lourdes, from The Refined Agency, have joined the community brain trust for bringing Ideas Worth Spreading to Las Vegas," he said. "Through helping further establish TEDxLasVegas, the ladies have brought a unique twist in bringing more of the community together for TEDxLasVegasLive. They are working with me and other community planners to put together a world renowned TEDx program together to Southern Nevada."
For details on the speakers for the night, visit this webpage. To purchase tickets for TEDxLasVegasLive, visit the registration page here. The organizers have released a promo code for the VegasTech community – VegasTECH – and it's valid for $40 off admission to TEDxLasVegasLive .