Techstars' ever popular Startup Weekend event is back in at the Innevation Center in Las Vegas on November 10th, 11th and 12th. You can get your tickets here, but there's a promo code at the bottom of this post to save you some cash, so scroll down before you buy.
If you're a solo entrepreneur looking to grow, or if you've got the next big idea that you're finally ready to start building, you've got to check out Startup Weekend.


About Startup Weekend
Techstars Startup Weekends are locally organized events that are designed to get entrepreneurs started on the fast track towards success. It's a 3 day event where the people with the ideas meet successful business owners and specialists within their community, and good ideas grow into active startups.
The program is designed to boost potential businesses right from the start.
Don't have a business idea, but love the startup life? There's room for you, too. Bring your skills and enthusiasm to Startup Weekend and join a team. Someone else's idea is sure to inspire you.
Here's how Startup Weekends work:
Friday Night
Startup Weekends kick off with a little bit of networking, a little bit of dinner, and a little bit of stage fright.

First, you'll get to know your fellow Startup Weekenders as you eat. Your speakers, coaches, and leaders introduce themselves and go over the agenda, and then there's a little more time for attendees to meet each other. After all, these are the people with whom you'll be creating teams to execute the best business ideas.
After that, it's time to pitch your ideas to the group.
Pitching is optional, and if you choose to present your business idea to the group,
you get just 60 seconds to share.
Polishing up your pitches is part of your training for the weekend, so consider this your first chance to practice.
All participants vote for their favorite pitches. Once the top ideas are identified, you form teams to execute that idea over the rest of the weekend.
By the end of the night, you'll be on a team – hopefully, you're on a team where your skills and resources are needed. Wrap up the night with some game planning, and Friday is done. Get some rest, because on Saturday, you're going to have your work cut out for you.
Saturday
Saturday morning starts at 9 AM with coffee and a light breakfast before you and your team dig in and start work. Your team can grab a workspace, figure out your setup, and start gathering some of the resources you'll need to execute your plan.
These events have a strong tech focus, so even if your business idea isn't strictly technical by nature, it's a good idea to aim to produce something at least a little technical (like a website) for your final presentation on Sunday night.
Coaches are available to help you find direction and get through snags, and throughout the day, there are workshops and individual team coaching sessions so that you can identify and solve the hard problems.
You're there until lunch…
And you're there past dinner.
Meals are provided so that you can focus on working and transforming your idea into a viable startup. For some teams, that might mean a solid business plan and a collection of resources that create a foundation for a bigger operation, and for other teams, the end result will be a completed prototype.
By 10 PM on Saturday night, you should be getting close to ready to present your startup to the judges. It's okay if you're not perfectly polished yet – that's what Sunday is for.
Sunday
Breakfast and coffee is served at 9 AM again, and if you need to put some final touches on your startup idea, you have the chance to do so.
The Sunday morning workshop is focused on helping you give a great elevator pitch. In other words, you'll learn how to present your idea clearly, quickly, and in such a way that your listeners want to know more.
After lunch, you and your team start prepping for your presentation to the judges. Your final presentation to the judges is just as important as the prototypes and plans you've built over the last couple of days, so spend some time creating something spectacular.
Final presentations start after dinner, and the judging and awards follow.
Your weekend comes to a close at 9 PM on Sunday night, but just because Startup Weekend is officially over, that doesn't mean you're done.
The goal of Startup Weekends like the one in Las Vegas is to help real businesses go from imagined to actual. While you may not continue working with everyone on your Startup Weekend team, many entrepreneurs find their cofounders, partners, and some of their founding team members through these events.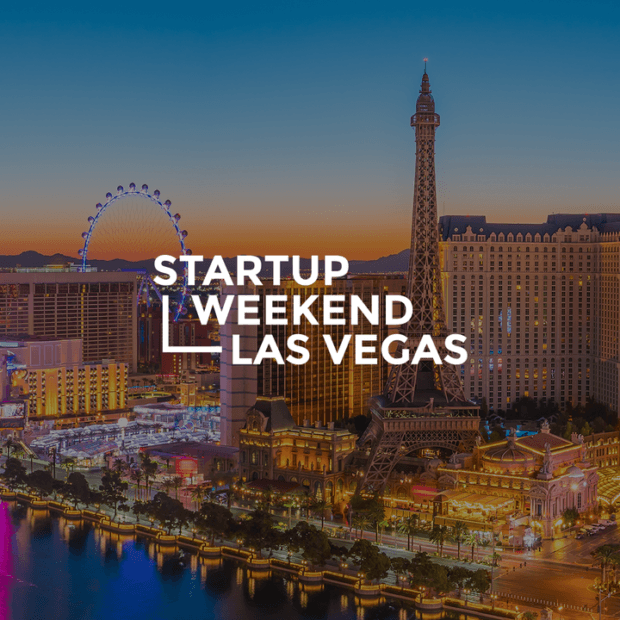 What Startup Weekend Las Vegas Can Do For You
Perhaps you have a business idea, and you're looking to Startup Weekend as a launchpad to give your startup wings. You'll have the chance to meet investors and business leaders in your local community who may serve as important connections as you grow.
For those of you who don't necessarily have an idea of your own, you can get a glimpse at the new projects coming out of your hometown, find a budding entrepreneur in need of your skills, or just get in some practice at founding a startup so that your skills are sharp when you're ready to step out on your own.
Startup Weekend is about more than just starting up.
It's about connections, inspiration, education, and action.
If you don't want to work on a team but you'd like to see the final presentations, a discounted ticket is available for only the Sunday night final pitches.
Have questions? Check out Techstars' FAQ section for more answers.
Ready To Get Started?
You can get tickets to Startup Weekend Las Vegas here, and if you want to knock 20% off of your ticket price, use coupon code VEGASTECH to get our special discount.
It's going to be fantastic. Register now, because space is limited. See you at Innevation Center on November 10th, 11th, and 12th!