Dotware Games is bringing their second Summer Game Jam Hackathon to Work in Progress on August 25th and 26th. That's a Saturday and Sunday in case you don't have a calendar handy.
The Las Vegas Summer Game Jam is a video game hackathon for game developers of all skill levels, from complete beginners to experienced pros. No experience is needed – if you want to learn how to make video games, this is absolutely the event for you – but there's plenty to interest the more advanced game devs, too.
Tickets are free! Just register on Eventbrite to save your place, and show up on Saturday morning with your laptop. Each day goes from 10 AM until 10 PM, and pizza (and probably other treats) will be provided to help get you through.

The Las Vegas Summer Game Jam 2018
This is the second Summer Game Jam from Dotware Games, and based on the success of last year's event, it's going to be fan-freaking-tastic.
Beginner level game devs tend to spend more time in the assorted free workshops, where you can learn new skills and get hands-on training from the pros. This year, you can expect workshops in:
Unity
Unreal Engine
3D Modeling
Animation
Monetization and Marketing
Even more workshops that haven't yet been announced
More advanced developers will find value in the workshops, too, and they'll have plenty of hackathon work to keep them busy. Form teams, compete for awesome prizes, and build something cool with other devs.
Bring your own computer, and if you want to participate in workshops, check ahead of time to see what software you need to download. Laptops are recommended, especially for carrying into workshops, though there will be places where you may put your desktop setup if that's your thing.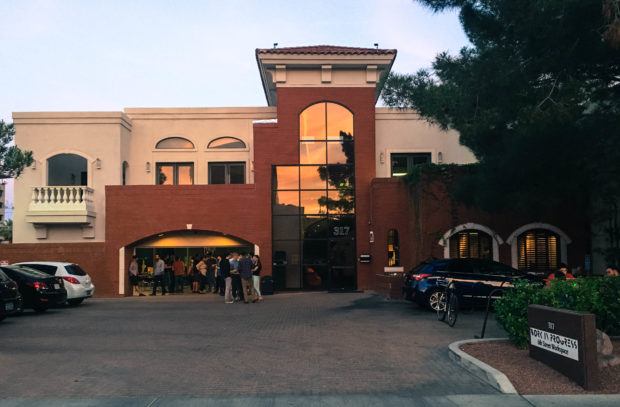 Things You Should Know about the Summer Game Jam 2018
The Summer Game Jam 2018 is at Work in Progress Coworking in Downtown Las Vegas. You'll find Work in Progress at:
Work in Progress
317 S 6th St
Las Vegas, NV 89101
Work in Progress does not have a parking lot, but there's lots of parking nearby. Street parking is available along 6th street and most of the streets nearby, including some actual parking spaces on the cross street Stanley W Cooper in case you hate parallel parking.
There's also a parking lot directly behind Work in Progress that can be accessed from 7th street and charges $1 per hour. The First Church of Christ, Scientist owns that lot, not Work in Progress, so please respect their rules.
The Summer Game Jam will be Saturday and Sunday, August 25th and 26th from 10 AM until 10 PM on both days. Please bring your Eventbrite ticket with you (on your phone is fine) so that you can get checked in. The ticket is free – the organizers are just asking that you please register ahead of time so that everything can be planned accordingly.
It's going to be a good time, so don't miss it! We'll see you there.