Want to know how to find a mentor for your business?
Are you interested in group mentorship?
In a previous article, I mentioned an event known as LevelUp that is hosted each month by Startup Vegas to give entrepreneurs a chance to present their ideas.
However, that was just ONE of the many resources our organization provides to budding entrepreneurs.
In this article, I want to share with you another incredible opportunity for you to receive GROUP MENTORSHIP from successful entrepreneurs here in Las Vegas.
This scenario is presented to all entrepreneurs at a monthly event hosted by Startup Vegas known as SyncUp.
If you are struggling to grow your startup, looking for legal advice, looking for growth advice, or any other help, this is a more personalized experience than other events out there.
Let me tell you why you absolutely need to attend this if you are looking for guidance.
Group Mentorship With SyncUp
SyncUp was created as a way to give personal feedback and actionable next steps to struggling startup founders.
Startup Vegas wants to do more than just provide opportunities for you to network because you may still have questions even after meeting many new faces.
With this event, founders can entire a small group setting with 4-6 others who are looking for feedback as well.
There will be one facilitator, and all of the time spent will be dedicated to group communication.
Let's see how it works in the next section.
An Entire Day Dedicated To You
SyncUp is an all-day group mentorship event starting from 10:00 am until 3:00 pm with a break for lunch.
Once you are assigned a group, you will have access to a whiteboard and other office supplies to help fuel your creativity.
While you work, a facilitator will be there to help find similarities amongst your group and you will brainstorm ways to help each other achieve your goals as a team.
Since groups are limited to no more than six people, your needs are emphasized as it will be much easier to dig deeper into your current situation.
How To Find A Mentor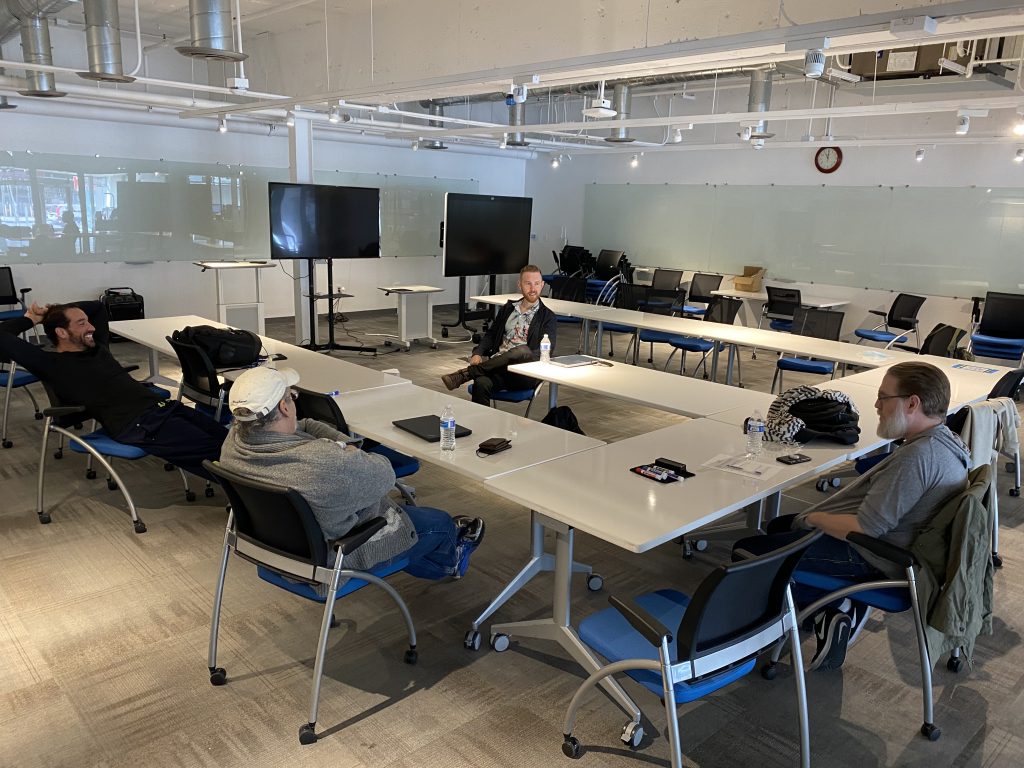 Join the next SyncUp event at this location.
The event lasts from 10 a.m to 3:00 p.m., so feel free to come by at any time during these hours and you can expect to receive the help you need.
Mentors are available throughout the entire event. You are not limited to a few select hours to ask questions.
Upon entrance, you will be greeted by various hosts and other participants that can help guide you to a mentor best suited for your needs.
Questions To Ask Your Business Mentor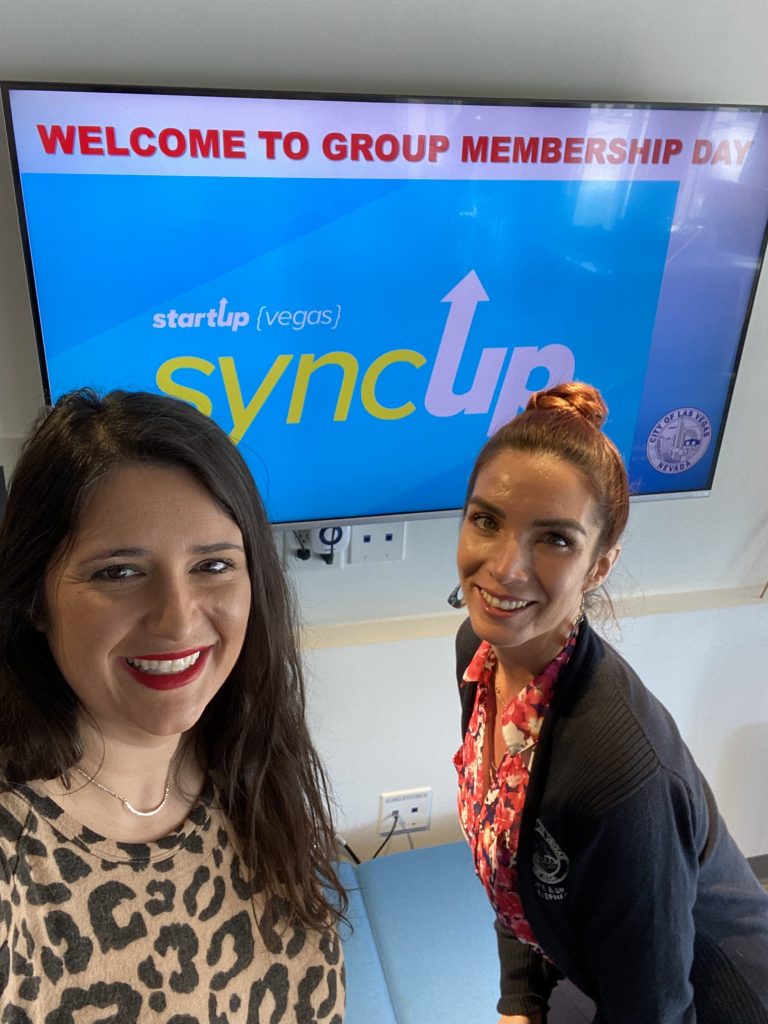 The goal of this event is to provide a framework that encourages deep discussion and allows you to be vulnerable in a non-judgemental space.
Since you are in a small group of others like you, it suits you best to be as transparent as possible as you will receive various perspectives on how to overcome your current roadblocks.
Remember, this is an entire dedicated to diving deep into your current situation. You will gain insight from people who you may have never met before, and because of this, they will be as truthful as possible to help guide you in the best direction possible.
You Are Not Alone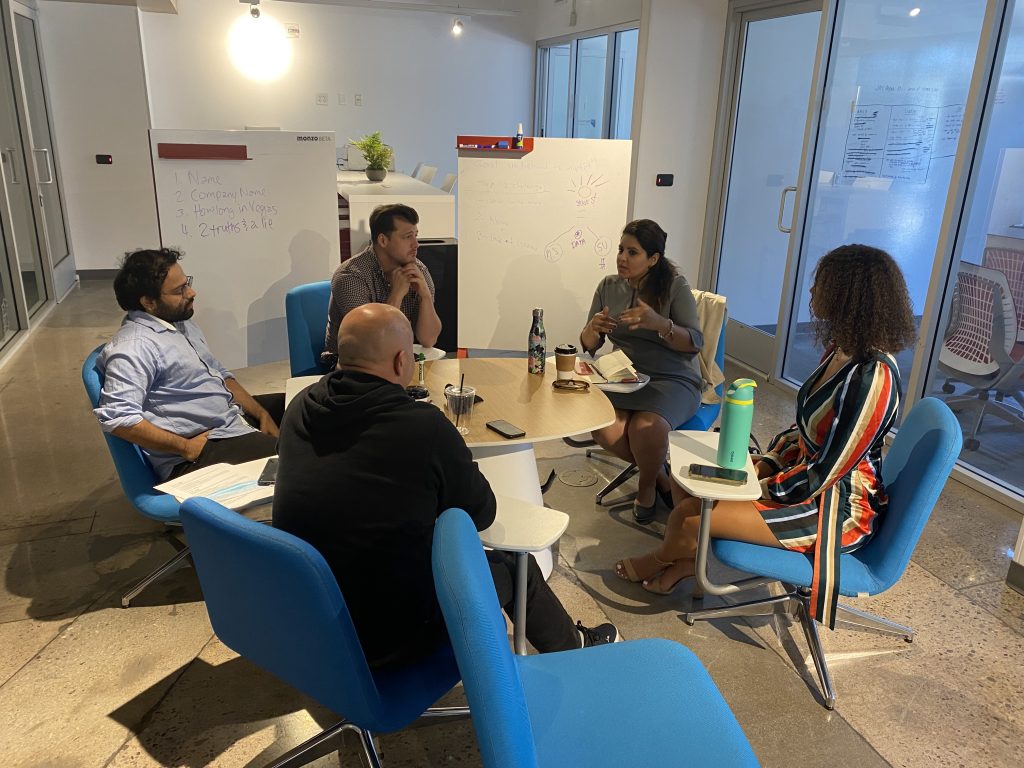 Remember, you are not alone!
Your attendance is the result of the uncertainty that all other participants are experiencing as well.
Beyond having your questions answered, this event also allows for a more personalized networking opportunity for you to meet new friends or business partners!
It is much easier to build meaningful relationships when two parties relate to a similar situation and this event presents you with this scenario.
By helping your fellow group members, it's likely that you will take home more value than you initially expected.
You may find that other group members want to join your business or may have connections to important players in your industry.
Conclusion
Just like all of Startup Vegas' events, there are no strict guidelines that you have to follow, as we believe that you should have as much flexibility as you need to be able to achieve your goals.
With SyncUp, this flexibility is present within small mentoring groups that allow you and other like-minded individuals to explore endless opportunities and work towards a common goal.
Want To Share Your Startup?
Contact us or leave a comment below to be featured in our next blog post.