BarCamp is an international network of user-generated conferences focused around technology and the web. The events are open workshop-events and the content  is provided by participants. The Las Vegas community will host a BarCamp on Saturday, March 12, 2016 at Work In Progress.

"BarCamp is a user generated workshop event that allows any one the opportunity to discuss the idea or project that they are working on and want to share with others," said Jessy Santana, co-organizer for BarCamp Las Vegas.  "BarCamp is about sharing and doing so without fear. It's the perfect opportunity to put your knowledge at center stage and to share with the Las Vegas community and possibly the world.
Jessy is an entrepreneur and coach living in Shanghai, China where she thrives on the entrepreneurial buzz of the city and loves being a part of the startup culture scene. BarCamp Shanghai was the first opportunity that Jessy had to attend a BarCamp event and present her ideas.
"The energy that is created when you can discuss the things that make you excited without pretenses and without restrictions is what BarCamp is all about," she said. "It's not just for the tech-savvy anymore it's about interacting with people that are doing amazing stuff and learning not only about what they do but also about them in turn."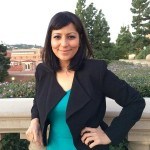 "We think BarCamp allows individuals to share what works for them specifically and why," adds Fanny Garcia, co-organizer for BarCamp Las Vegas. "Business or marketing or learning should not be about doing what other people do. These practices should incorporate personal core philosophies first and then applying traditional business practices to that philosophy. BarCamp reminds people that thinking outside the box is perfectly okay and can often lead to great things. Where else is there an event that is so open to different industry people sharing?"
The duo says that most people in the Las Vegas community are not familiar with BarCamp, which has been their biggest challenge in planning this first event. They have been asked by community members to define the event's goal and why they are organizing it.
The two feel this question comes with the implication that there should be a monetary reward for organizing the event – yet, the event is free to attend.
"For us, sharing knowledge and providing people with the platform to voice their ideas and perspectives is reward enough," explained Santana. "There are few places where experimentation and spontaneity is allowed in business or in life. Besides finding a space that would host BarCamp (thank you Work In Progress!) our biggest challenge has been educating people about the concept of BarCamp and why it's important in Las Vegas."
The organizers say they would like to get the #VegasTech community involved in the event. They remind attendees that they don't have to be a presenter to attend BarCamp Las Vegas, so those nervous about public speaking should still attend. Every attendee is an active participant at BarCamp, whether they be a listener, sponsor, or volunteer. And the more #VegasTech community members who attend, the better the event will be!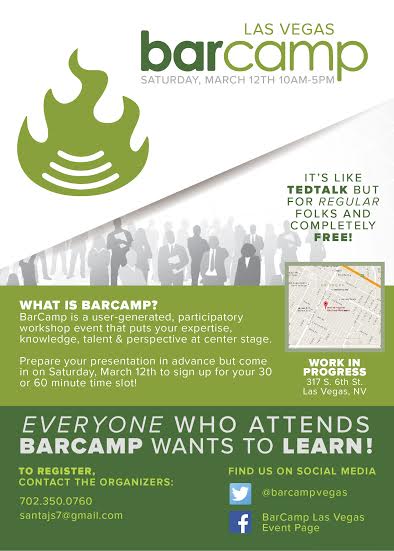 "I presented at BarCamp Shanghai in the fall of 2015," recalled Santana. "You never know who you will meet and what you will learn. I was only going to stay for my talk in the morning and leave but I ended staying the entire day!"
Both Santana and Garcia say they are new to the #VegasTech community, and part of the reason for hosting this event was to help it grow.
"As a newbie in the tech industry, I can tell you that the #VegasTech community can be intimidating," shared Garcia. "If you don't know the language of tech, people look at you like you're ignorant. And if you ask a "stupid" question, forget about it. The good thing is that if you find a good teacher with patience, you're golden. But it takes time. I can tell you that I've found a good teacher in my boss, Andy Schaudt at Post Launch, a web presence marketing firm here in Las Vegas."
"I am also a newbie in tech," added Santana. "Our company, Rave Works, is trying to bring an office to Vegas but the process has not been easy. This is why the idea of BarCamp came about. It was great reading about tech and what was going on, but I wanted to meet the people doing the innovating not just read about them."
Because BarCamp can be hosted by anyone and in any part of the world, the duo says their goal is to present BarCamp as an event and a concept that others would be willing to carry forward.
"Jessy and I may be the two brave souls who decided to organize a BarCamp for March 12, 2016 but we certainly don't need to be the only ones or the last ones," said Garcia. "We have hope that others will rise up and take the baton and organize a BarCamp around literature or philosophy or social justice. BarCamp doesn't have to just be about tech. Plus, we can provide support to anyone who wants to host a BarCamp Las Vegas in the future."
"Work In Progress, The Reset Project and Post Launch have been an invaluable source of support in organizing BarCamp," adds Santana. "A HeforShe campaign will also be going on at the event as well, supported by UN Women."