Join The Innevation Center community on Thursday, August 28, 2014 from 11:30 am to 1:00 pm for their monthly luncheon, dubbed the "CommunityCation Luncheon."
August's speaker is Andrew Citores, founder & CEO of JusCollege.
JusCollege is the easiest way for students to plan, organize and book awesome travel and entertainment experiences. Over 100,000 students and alumni trust JusCollege when booking their trips and events.
"We chose Andrew to speak this month because he is Innevation," said Alexis Glaser, Innevation Director. "He had a vision, made it a reality and is expanding in excellence on a daily basis. He was chosen because he is an inspiration to us all. By sharing his story and insights, he can make a huge difference for members of our community. He is a win for our community."
Since its inception, JusCollege has experienced tremendous growth. The company is 5 months ahead of last year's sales and over 80% of bookings are from campuses it has never booked for Spring Break before.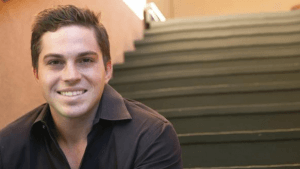 "As JusCollege started growing more quickly in the summer of 2013, we knew to scale our vision we would need an amazing team. The qualities we were looking for in new hires were the things Las Vegas is known for — hospitality, world-class customer service, and a budding tech scene," Andrew Citores said. "The support we have received from the VegasTech community has been outstanding. Our team loves working out of the Innevation Center and enjoy attending the community events in the space."
The team at The Innevation Center said JusCollege plays an important role in both the VegasTech and Las Vegas at large.
"Andrew and his team have done an excellent job of building a successful startup based on Vegas' number one industry…tourism," said Alexis Glaser. "As a result of focusing on what is in front of them, they have not only built a strong business, they have built a stronger community by bringing more tourists to Vegas, which is key to supporting Nevada's economy. That is truly a win-win!"
Andrew Citores will be sharing his entrepreneurial journey, as well as challenges JusCollege faced when they launched in the Bay Area and as they ramped up in Las Vegas.
"On a recent TBAN startup panel, I talked about the challenge of talent we face in the VegasTech community. I think since that panel, we have seen some new faces move to town, but we still have a long way to go to be able to feed the growing ecosystem here," Andrew Citores said.
Come hear Vegas entrepreneur Andrew Citores speak on August 28, 2014. More details here.