Iron Yard Ventures was ranked as one of the top startup accelerator programs in the United States in both 2015 and 2016. Since 2012, IYV has invested in more than 62 early stage technology companies who have gone on to raise more than $100 million in follow-on funding.

In Spring 2016, Iron Yards Ventures announced a hospitality-focused accelerator to downtown Las Vegas. This month, the team is celebrating the graduation of accelerator Batch 6, and credits the tech community in Las Vegas for their strong support of this program.
"So many people have been amazing in helping out our companies, but the best I think is yet to come," said Ryan J. Negri, Managing Director of the accelerator.
Negri points to accelerator mentor Robert Rippee, Director of the Hospitality Lab at the International Gaming Institute, as a valuable mentor to the teams in the program this fall. Rippee met with Nobal Technologies, one of the batch startups. The startup creates innovative and intuitive digital interfaces to enhance customer experience and is changing the way people interact with their world. Their innovative product is the iMirror.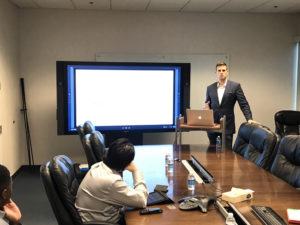 "Robert Rippee is connecting them commenting them with the builder of the new Resorts World casino/hotel and also to the CEO at Wynn," noted Negri. "This could lead to the installation of their mirrors into over 30K rooms!"
When Negri reflects on the challenges with Batch 6, he points to schedule logistics and the impact of work environments.
"It's very hard to get everyone together," he noted. "With different working and sleeping schedules, and with companies of various stages, it's really difficult to gather everyone. We really enjoyed working at a co-working space. Even though we have our own space now, I'll still have the startups work at least 3 weeks of the 3 months from a local co-working facility."
Negri says he is considering skipping the extra curricular events next time around, both because of the scheduling challenges and the value they provided.
"They are really kind of a waste of time," he said. "Teams have 3 months to work their butts off to get investment or land huge customers by the end of the program. If you know startups, you know they don't have time for movies, hiking, or paintball. I'll still encourage they get out and take time for themselves, but coordinating it for them doesn't work."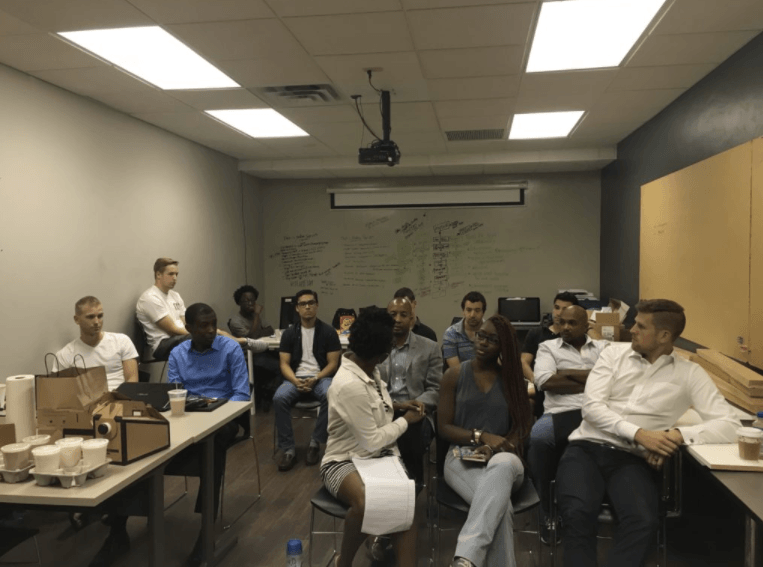 This year's cohort has teams of all stages, cultures and countries. Four of the batch talented teams are local to Las Vegas, while others traveled from Atlanta, Calgary, and Johannesburg. From notable VCs choosing to fund only startups that care about diversity to the well-documented gender gap in tech, this accelerator batch's diverse team selection draw notice from those in the startup community.
"Curating a diverse cohort comes natural to me, as I've grown up in diverse cities and have traveled the country," said Negri.  "I don't see color when I'm being pitched. I don't hear accents when I evaluate a startup. I look at the team, and how they work together, how they treat each other, and their staff. The person is so much more important than the product. That was my hunch before the program, but the program confirmed that for me. I look at a team and ask, 'Can this team pivot and still be successful?'"
For other investors and startup accelerators looking to increase their portfolio diversity, Negri suggests searching for underserved companies by targeting underserved cities, programs, and universities.
"I don't like talking about race, or the diversity of our program, because it shouldn't/wouldn't be a topic of conversation if everyone ran programs or hired properly," Negri said. "But I know that's not the case. I just think all Managing Directors need to recruit unbiasedly and color-blind."
Iron Yard Ventures invites the local community to come hear the startups' stories, celebrate their success, and enjoy a night with the bustling #VegasTech community. Join the fun on Tuesday, November 22, 2016 from 5:30 PM – 7:30 PM PST at the RedFlint Experience Center. More details here.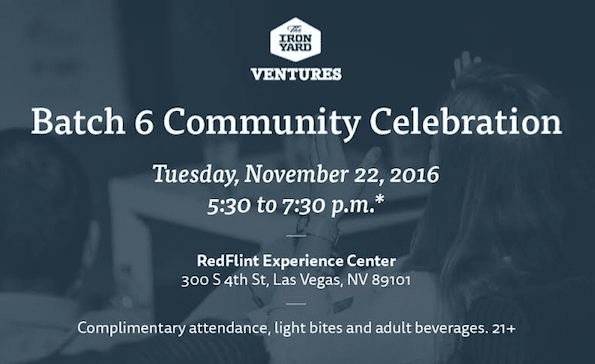 Negri is already looking forward to the next batch in Las Vegas.
"We just opened applications. I'll be traveling December, January, and February recruiting," he said.  "I didn't get a chance to recruit as much as I wanted this cohort because I was setting up the program. This time, I'll get to visit the underserved areas and recruit directly. We've landed some sponsors for the next program, but can always use more. We provide serious value to a local corporation that may be struggling to innovate or that want more innovation."