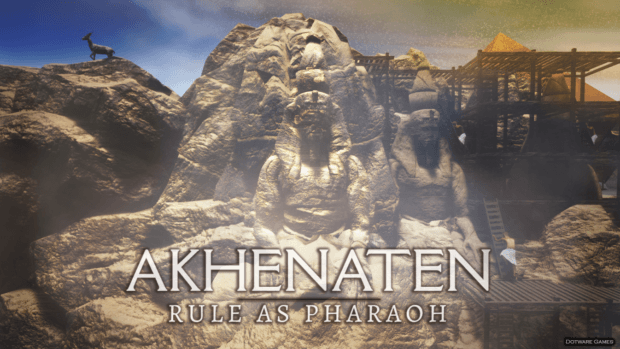 Conner Torres and his game development startup Dotware just announced the launch of their new game Ahkenaten: Rule As Pharaoh.
Akhenaten is a turn-based game where players control economy, culture, and growth of their population from small grass huts in a village by the Nile to a full-blown metropolis with pyramids, regional trade, and politics.
Torres is building on his success in the the local game developer scene in Vegas. It all started with a Game Jam event held at the RedFlint Experience Center on the weekend of Maywether-McGregor, and it was standing room only at some workshops.
Game Jam is billed as a Hackathon for game devs, but Torres didn't like the traditional format.
"From the beginning," Torres said, "I wanted this to be open to everyone of all skills levels. So I broke the rules of a Game Jam."
In typical startup founder fashion, Torres changed the marathon schedule of the Game Jam format and let participants go home for the night instead of slogging their way thru the grind. Additionally, he added workshops for all, meaning those curious about game development as well as veteran coders were welcome to the event. It worked out better than planned.
"We violated the fire code," Torres said, laughing. "We planned for 20 or so people per workshop. Some were standing room only with over 60 people."
The turnout is an encouraging sign for tech growth in Las Vegas. Rooms packed with coders is becoming an increasingly common occurrence in Las Vegas, where all eyes are on tech.
"Not only was the fight on Saturday," Torres added, "but the Game of Thrones finale was Sunday. The turnout was amazing."
Here's a preview of the new game:

Right now, the gaming industry is enjoying a burst of growth that bodes well for up and coming developers. Chinese internet giant Tencent is investing $15 billion into esports over the next 5 years. Allied Esports is opening an arena in the Luxor Q1 2018.
Vegas is about entertainment and fun. This launch from Dotware is the next step in the shift. Combine it with the growth of EVO events held here the last several years, and Vegas with its abundance of hotels, shows, and food is well prepared for the new style of entertainment.
Dotware is part of a solid foundation for game developers here in Vegas, and we're excited to watch them grow.