How to Start a Startup is a series of video lectures, initially given at Stanford in Fall 2014. Sam Altman, President of Y Combinator, organized and runs the series, and has made the series available for streaming here.
Throughout Summer 2015, Las Vegas entrepreneurs and startup community members are invited to a viewing of the series at Work In Progress in downtown Las Vegas. This series is sponsored by Fennemore Craig.


"We believe in Las Vegas, and in the Las Vegas start-up community," said Mary Bacon, Attorney at Fennemore Craig. "We decided to host a viewing of the Sam Altman School series to help further the education component provided to entrepreneurs in Las Vegas and at Work in Progress. We are hoping to not only provide an additional source for education, but a weekly collaboration, exchange of ideas, and a strengthened community."
Each Wednesday in the Garage from 4:00-5:30pm, lectures from the Sam Altman series will be playing. Those interested in watching can come every week and enjoy delicious snacks as they learn. Community members can also look through the lectures and attend those that pertain directly to current startup needs. Interested community members are asked to RSVP here in order to attend.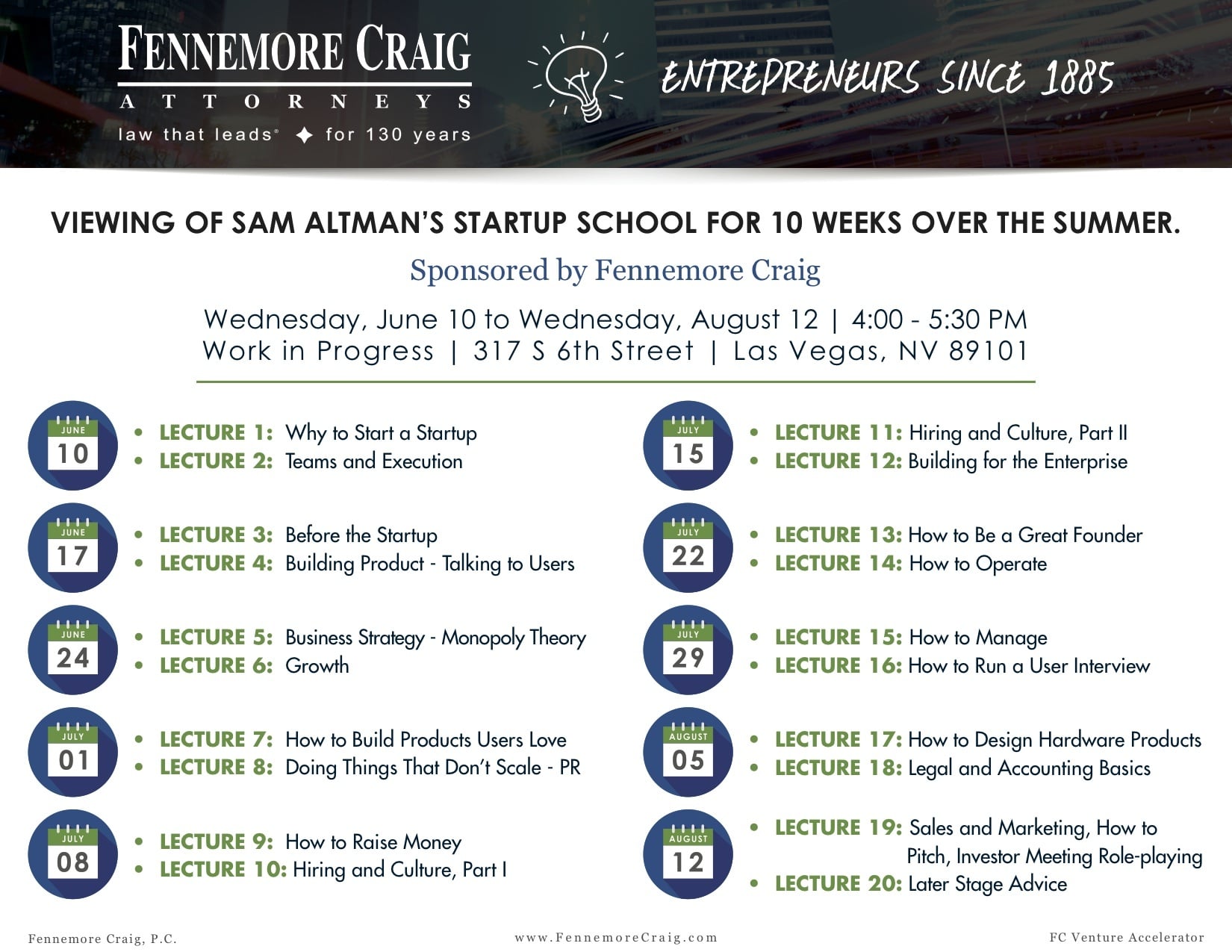 "We think everyone should attend the series," said Bacon. "George Moncrief at Work in Progress has been generous enough to open the doors of Work in Progress to all who are interested in attending. We are hoping to get an incredible mix of entrepreneurs at all stages of business, students, professionals, and anyone interested in learning more about entrepreneurship. Please come and share your experience, knowledge and expertise with our unbelievable start-up community."
"We are hoping that entrepreneurs are able to walk away with more education, and have a clear direction to ask for guidance or other professional services," she continued. "Everyone in Las Vegas is working together to help develop the start-up scene and we are simply doing our part. We are hoping that entrepreneurs and community members alike walk away with not only the greater understanding that Sam Altman's Start Up School will provide, but will also walk away knowing that Fennemore Craig has a Venture Accelerator, that the Las Vegas Metro Chamber has a pro-bono resource bank filled in professional services, that The Mill is regularly accepting applications, and that the Nevada Small Business Development Center is always available to help!"
Bacon says she and her Fennemore Craig team love working with start-ups. They are involved as coaches at Startup Weekend Las Vegas events, host office hours at Work in Progress, have donated over 100 professional hours to the Las Vegas Chamber's Resource Bank, and hold position on Work in Progress's Steering Committee (pictured below).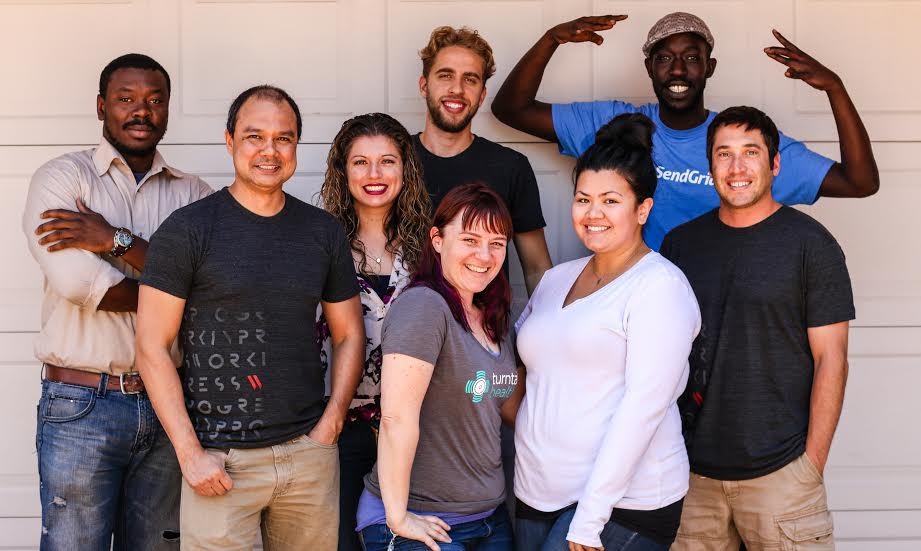 "Working within the start-up community has been the most fun; we love that it is a community of DOERS," said Bacon. "Watching each business grow through the different stages has been not only extraordinarily exciting, but also inspirational. The passion, creativity, enthusiasm and innovation everyone has about improving their business, themselves, and the Las Vegas community is empowering, and we are so thrilled to be a part of it."
To further help startups, the Fennemore Craig team recently launched the Fennemore Craig Venture Accelerator.
"Clients accepted into our program can defer payment of legal fees for a certain period of time or until the business secures financing or achieves meaningful revenues," explained Bacon. "The Venture Accelerator Program allows Fennemore Craig to leverage its considerable business, finance and entrepreneurial legal expertise to help start-up companies become successful."
One startup the new program has been able to help is Tom Typinski's personal training platform, Peak Physique. Bacon says she and her team have helped Typinski gain access to vital legal services on a deferred fees basis.
"Our vetting process is thorough and we seek out companies with compelling business models that cater to unmet market needs," she said. "For more information, please give us a call, or stop by Work in Progress during our office hours to learn more."